I thought since we are getting to the last days of Summer, lets get this one last Summer recipe in! Fall is almost here and in Seattle we have an "Indian Summer" which will give us a dry September and October...... most of the time! The phrase "Indian Summer" -- most common along the eastern U.S. -- has come to mean a period of very warm and dry weather that occurs after the first frost of the autumn season.
Everyone should have a great recipe for Vanilla Ice Cream in their repertoire. I had the opportunity to take a class from David Lebovitz a few years ago. If you are not familiar with him, I have a bit about him at the end of this blog. Here's my favorite recipe for Vanilla ice cream, which you can serve with anything, from a freshly-baked fruit pie, a warm berry crisp, or simply smothered with dark chocolate sauce or caramel sauce and toasted nuts. Today, I have made the ice cream and combined with my favorite Fudge Sauce, then put into my Bombe mold. This is one of my favorite desserts to make during Summer months, an ice cream bombe. They are so easy and make a great presentation for all your Summer parties. Plus, there is NO baking involved, so you don't have to worry about a hot kitchen! So, heh, let's make this!!
It's said that vanilla is the most popular flavor of ice cream. But most people don't know that vanilla is also the most labor-intensive of all crops. Because of that, vanilla beans and pure extract are costly. Thankfully, a little vanilla goes a long way. I use both a bean and vanilla extract in my ice cream, since I find they're slightly different flavors and each compliments the other.
The three most common types of vanilla are Bourbon, Tahitian, and Mexican. Bourbon vanilla, from Madagascar has a bold, very-pronounced flavor. Tahitian is more floral, and bit more elusive. And real Mexican is strong, yet creamy-tasting, perhaps my favorite of them all. When I lived in Cabo San Luca's I had a ready supply of real Mexican vanilla and made vanilla ice cream quite often for friends and family. Don't use the cheap Mexican knock-offs, since most contain coumarin, which is toxic and banned for food use in the United States. True Mexican vanilla should be similarly-priced to other vanillas and is worth every cent.
The best way to tell if a bean is good or not is to take a sniff. Ditto with extract. Plumpness of beans doesn't necessarily mean it has more flavor or essential oils, it may just have more water. And if you smell anything smoky, that means the bean was cured quickly over the fire, rather than dried properly, and not of good-quality.
Vanilla Ice Cream- step 1 for the Bombe
About 1 quart
Adapted from David Lebovitz
For a richer custard, you can add up to 3 more egg yolks. For a less-rich custard, substitute half-and-half for the heavy cream, realizing that the final texture won't be as rich or as smooth as if using cream.
1 cup (250ml) whole milk




A pinch of salt




3/4 cup (150g) sugar




1 vanilla bean, split lengthwise




2 cups (500ml) heavy cream




5 large egg yolks




1 teaspoon pure vanilla extract
1. Heat the milk, salt, and sugar in a saucepan. Scrape the seeds from the vanilla bean into the milk with a paring knife, then add the bean pod to the milk. Cover, remove from heat, and infuse for one hour.
2. To make the ice cream, set up an ice bath by placing a 2-quart (2l) bowl in a larger bowl partially filled with ice and water. Set a strainer over the top of the smaller bowl and pour the cream into the bowl.
3. In a separate bowl, stir together the egg yolks. Rewarm the milk then gradually pour some of the milk into the yolks, whisking constantly as you pour. Scrape the warmed yolks and milk back into the saucepan.
4. Cook over low heat, stirring constantly and scraping the bottom with a heat-resistant spatula, until the custard thickens enough to coat the spatula.
5. Strain the custard into the heavy cream. Stir over the ice until cool, add the vanilla extract, then refrigerate to chill thoroughly. Preferably overnight.
6. Remove the vanilla bean and freeze and process the custard in your ice cream maker according to the manufacturer's instructions.
Note: Used vanilla beans can be rinsed and dried, then stored in a bin of sugar. That sugar can be used for baking and, of course, for future ice cream making.
Step 2 -making the Bombe
Using a spatula mix in your fudge sauce, just slightly, as to not make chocolate ice cream, but to make swirls. Next, scoop the ice cream into the Bombe mold. I have had mine for over 20 years, it is made in Italy. I used to make Bombe's a lot when the kids were growing up, for the kids or company. You can buy one on Amazon. If you buy the smooth dome shaped one, I think, it is easier to use plastic wrap in the mold, before you scoop your ice cream in. It will un-mold easier. Because mine is ribbed, I don't use the plastic wrap.
Put the lid on tight and freeze. To unmold, just dip for about 30-45 seconds in hot water, flip onto a platter and there you have it! I garnished with fresh chocolate mint leaves from my herb garden mmmmmmm.
Now, this is for presentation! It tastes the same, if you make the ice cream and mix in the fudge. But, if you have guests over for dinner, it is easy to do and makes a huge impact! Remember, we eat with our eyes, if it isn't pretty or yummy looking, we just aren't that enthused about eating it!
Mmmm this is beautiful and so very creamy and delightful!
David Lebovitz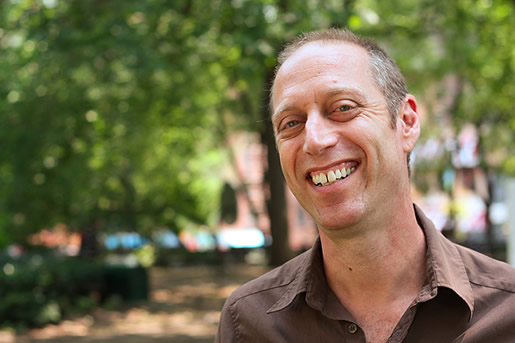 David began working in restaurants at the age of sixteen, until he ended up at Chez Panisse in Berkeley, California, working with Alice Waters and co-owner, Executive Pastry Chef Lindsey Shere, who he considers his mentor. He spent nearly thirteen years in the kitchens at Chez Panisse before leaving in 1999.
He was named one of the Top Five Pastry Chefs in the Bay Area by the San Francisco Chronicle and have been featured in, Bon Appétit, Chocolatier, Cooking Light, Food+Wine, Cook's Illustrated, The Los Angeles Times, Newsweek, Travel and Leisure, The New York Times, People, Saveur, Sunset, and USA Today.
He left the restaurant business in 1999 to pursue writing books and now lives in Paris full time. He has written six books. Room for Dessert, Ripe for Dessert, The Great Book of Chocolate, The Perfect Scoop, The Sweet Life in Paris and most recently, Ready for Dessert.The first two were the critically acclaimed Room for Dessert and Ripe for Dessert which are now out of print and considered collectible. (If you are looking for a copy, check out used book sites.) I was lucky enough to take a class when he came to Kirkland, Washington on a tour from Paris. He is terrific!

~~~
Wee Bear and I have started our Fall leaves tour. We flew into New York on Sunday and are boarding our cruise ship today. The ship departs New York on Thursday, we have several ports on the way to Montreal. Here are a few pictures of our eating adventures in New York. Day 1 evening, we ate at my favorite, Jean Georges restaurant. We have dined here before and enjoyed the experience in both Nougatine and Aubergine. Nougatine is casual, where as Aubergine, requires a jacket for men. This time we dined in Nougatine. I snapped one picture with my tiny camera, I didn't want to bother the other diners with continual pictures, so this is it! I started with my new favorite drink this Summer, Cucumber martini! If you come to New York, any of Jean George's restaurants are a foodie experience for sure.
Day 2 Wee Bear picked Wolfgang Puck's new steakhouse. I had a Pomegranate martini, my last season's favorite! We shared a lobster cocktail appetizer.
Lobster cocktail at Wolfgang's new restaurant in New York!
These chocolates are delightful to look at, as well as eat!
This cheese cake is world famous and can be shipped anywhere. It was the best!
Sweet One will be here on Friday with another recipe she has cooked up in her kitchen! I can't wait to see! She continues to delight!
I have several blogs written in draft form, for the next few weeks, no worries! I will interject pictures at the end, if time allows and I think you may enjoy!
Cheers!
JJ